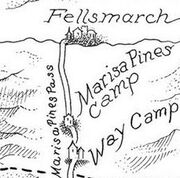 Marisa Pines Camp is a Clan settlement that lies within the Spirit Mountains and well known for its trade. It stands sentinel at the pass leading through the southern Spirits to the flatlands beyond, between Fellsmarch to the north and Way Camp to the south. Passing through the camp is one way to reach the kingdoms to the South, Tamron and Arden. 
Appearance
Edit
Marisa Pines Camp is a large settlement of about a hundred lodges of varying sizes, built far apart from each other to allow for expansion as the clan families grew. It is centered by the Common Lodge, a large building used for markets, ceremonies, and feasts.
Close by to the Common Lodge is the Matriarch Lodge, where Fire Dancer and Bird lives along with a mix of blood relations, friends, and children fostered from other camps, as well as Willo Watersong, the Matriarch of Marisa Pines Camp. The interior of the lodge is fragrant with winterberry, pine, and cinnamon. Great bundles of herbs hang from the ceiling, while casts, baskets, and pots line the walls. On one side of the lodge are paints, dyes, and earthenware jars of beads and feathers. On the other side of the lodge are medicinals such as salves, tonics, and pungent potions. Hides stretch over the frames, some with designs, and hangings divide the room into several chambers. There is a loom at the corner of the lodge, which Willo uses to weave. The lodge is adjacent to a cooking lodge and a sleeping lodge. There is also a room which patients and their families use, to facilitate their being tended to by Willo.
Blessed by its strategic location, Marisa Pines Camp prospers as a center of commerce and trade. Each clan has their own speciality in produce, and the Marisa Pines clan is well-known for their remedies, dyes, healing, and hand-woven fabric. However, they also deal with produce from the other camps.
Handwork from the camps throughout the Spirits flows into Marisa Pines Camp, including silver and gold work, leather, precious stones set into jewelry and decorative pieces, hand-woven yard goods, stitchery, art, and magical goods. Even when it is not a market day, Marisa Pines Camp receives many brokers who purchase their goods and funnel them to other realms such as Arden, Tamron, and Fellsmarch.