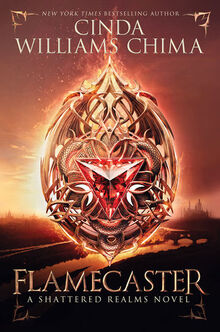 Flamecaster is the fifth book in the Seven Realms universe and the first book in a new series, the Shattered Realms, by New York Times bestselling author Cinda Williams Chima. It was released on April 5th, 2016 by Harper Collins.
The new book explores what happened to the Seven Realms 20 plus years after the events of The Crimson Crown and 25 years after King Montaigne launched his war against the Fells.
Ad blocker interference detected!
Wikia is a free-to-use site that makes money from advertising. We have a modified experience for viewers using ad blockers

Wikia is not accessible if you've made further modifications. Remove the custom ad blocker rule(s) and the page will load as expected.