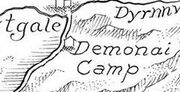 Demonai Camp is one of many clan settlements situated in the Spirit Mountains. It is located south of the Dyrnnewater and west of
Marisa Pines Camp
.
Elena Demonai is the Matriarch of the camp, whilst her son, Averill Lightfoot Demonai is the Patriarch. Originally wanting to pass on leadership of the camp to his daughter, Raisa ana'Marianna, he is succeeded by Reid Nightwalker after Raisa is crowned Queen.
Demonai Camp is where the Demonai warriors train and hone their skills.
The Demonai are famous for their warriors and magical amulets.
Notable Residents
Edit